History
Arthur Byron Bayers – 1930-2018
Byron Bayers was born in 1930 in Dillon, MT to Art and Elizabeth Bayers. He had 5 older sisters, Helen, Jeanne, Beach, Bertha and Wanda. He passed away peacefully on July 15, 2018, at the Eastern Idaho Regional Medical Clinic (EIRMC) in Idaho Falls, where he was in ICU following complications from a fall at the family ranch in Twin Bridges, MT.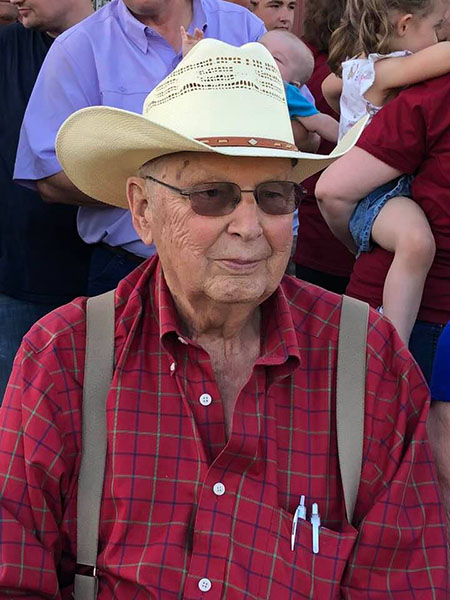 He moved with the family to the current ranch site near Twin Bridges in the 1930s. There he attended school where he excelled in academics and sports, where he was a standout in track, basketball and football. Byron was also involved at an early age with his parents' purebred Hereford ranch, showing, fitting and traveling with the show cattle all over the western United States.
After high school he attended the University of Montana in Missoula. There he received a degree in business and competed in track and football until ROTC duties demanded more of his time. While there, he married his high school sweetheart, Pauline Oberg of Twin Bridges. He and Pauline were married for 62 years before her passing in 2015. Following college Byron entered the Air Force during the Korean Conflict. His original military orders were to Korea, but later changed to a radar base in Yaak, MT. There he served as a Lieutenant, helping run the base on the Canadian border. He was very patriotic and proud of his service.
After his Air Force service they returned to Twin Bridges and back to the ranch until his father's death in 1960. He then continued to run the ranch until his recent passing. He and Pauline raised 3 children, Rich, Kathy and Jill on the ranch.
His love for Herefords was unsurpassed. He served on the American Hereford Association (AHA) Board in the 1970s and was elected President in 1976. In 2017 he was inducted into the AHA Hall of Fame. He attended World Hereford Conferences in Canada and Uruguay and went to Hungary to act as an AHA consultant to that country in selecting Herefords. In 2009 he was the recipient of the Canadian Hereford Ambassador Award.
Many annual cattle auctions were held in the Old Round Barn located on the Bayers Ranch where their cattle set several price records in Montana. During these years, the Bayers Hereford Ranch sold cattle and genetic material into 38 states and 3 foreign countries. He also judged some of the major cattle shows across the country.
In 1997, he along with wife Pauline and daughter and son-in-law Jill and Marc Hotchkiss, started the publication Hereford America which is widely read nationwide and in seven countries.
He also became a private pilot after being passed over in the Air Force due to less than 20/20 eyesight. His flying was a real passion for him, culminating with him flying or owning 117 different aircraft and the accumulation of over 10,000 hours of flight time. He was appointed to the Montana Aeronautics Board for several years and was presented with the Pilot of the Year award for 2005-2006. He also received the Wright Brothers Master Pilot award from the Federal Aviation Administration in 2005.
Other hobbies included following his beloved UM Grizzlies, local high school and national sports. He attended many Twin Bridges High School basketball tournaments in recent years and was a mainstay in the stands or on the sidelines for his children's events. He also coached many Little League, High School and softball teams. He still attended high school football games and had a special parking place on the side lines, where he could park his pickup and sit in a chair in the bed of his pickup. Thanks to TBHS for letting him do this!
Byron was also very interested in visiting with all types of people about all subjects, was very well read and always made time for people. His community and county were very important to him. He was on many local boards and was a Madison County commissioner for several years. He served 3 terms on the local school board as well. These were sometimes thankless, stressful duties but he always listened to people's concerns, often with phone calls early and late in the day.
He will be sorely missed by his family, friends and community, but his good work lives on. The family wants to thank all who have sent condolences and will have a private family funeral. Most friends and family had just celebrated the ranch's 100th year anniversary and family reunion at the Round Barn the week before his passing. Please remember him as he was there – vibrant, visiting with everybody and sharing his proud family history.
He is survived by his 3 children, Rich (Mary Ann) Bayers of Buffalo, WY; Kathy Bayers of Bozeman, MT; Jill (Marc Hotchkiss) of Reva, SD, two grandchildren, Britt (Blair) Bayers and Lindsay (James Hruby), and two great grandchildren, Mia and Jack Hruby. He also has many cousins, nephews and nieces as well.
In lieu of flowers, memorials in Byron's name can be sent to the Church of the Valley, PO Box 11, Twin Bridges, MT 59754 or to the Byron Bayers Memorial Scholarship, %Opportunity Bank, PO Box 417, Twin Bridges, MT 59754.
Dad, ol' bull shipper and pilot, rest in peace!
The Bayers Hereford Ranch was established in 1918 by A.C. Bayers and his wife Elizabeth, who were Byron's Dad and Mother. The ranch is currently owned by Byron and Pauline's children, Rich, Kathy and Jill.